The One Planet Summit organized on 15 December 2017 in Paris outlined concrete steps by private and public sector actors working together to meet the objectives set by the Paris Agreement on Climate Change. The 12 commitments that resulted out of this convening consist of 30 actions intended to intensify and accelerate global efforts to fight climate change. One of these actions, under Commitment 3 (Mobilizing researchers and young people to work for the climate), is the implementation of One Planet Fellowship Programme.
OBJECTIVE AND STRUCTURE
The One Planet Fellowship Programme aims to build a vibrant, connected and intergenerational network of African and European scientists equipped to lead research on agriculture - climate change in Africa.
It is designed to enhance the capacity of high potential researchers focused on agriculture and climate change adaptation and mitigation. Its three pillars include:
Building science skills. One of the keys to improving livelihoods in sub-Saharan Africa is to build and sustain a strong, effective talent pool in agricultural R&D. This requires building the Fellows' science skills while strengthening R&D systems. The Fellowship expands the laureates' world of science, facilitating their access to the latest methodologies and technologies, while building their professional networks. In turn, it brings the groundbreaking work of African agricultural and climate scientists to the national, regional, and global stages, where it is much needed. A crucial element of this pillar is the Advanced Science Training (AST) where Fellows are given the opportunity to hone their science skills in state-of-the-art laboratories and institutions and be mentored by a senior scientist in their field of specialization. Fellows will be hosted in major French and European "Advanced Research Institutions."
Developing leadership skills. Each fellow participates in leadership skills courses that focus on building self-esteem and offer insights into how to thrive in a workplace through teamwork and negotiations. They also have the practical experience of hosting a role-modeling event to introduce other young students or colleagues to the importance and rewards of careers in agriculture.
Fostering mentoring partnerships. Mentoring is a proven and powerful driver for career development and particularly for retaining women in science. A Fellow is paired to a mentor—a senior professional who volunteers to guide the fellow's career path. Each Fellow is mentored for one year as part of the fellowship package. In the second year of the fellowship, all fellows pass on their knowledge by mentoring junior scientists, thereby providing an opportunity to practice their leadership skills.
SELECTION OF CANDIDATES, MENTORING AND NETWORKING
Three successive Calls for applications in Africa are launched in 2019-2020-2021. For each Call, up to 45 candidates (25 women, 20 male) are selected to take part in a 3-year fellowship cycle.
Each candidate Fellow is matched to an African mentor. Those who will have the opportunity to do an AST in Europe will be matched with a European science supervisor as well. Each candidate Fellow will also be paired with and mentor a junior African scientist and a junior European scientist. This group of laureates, mentors and mentees constitute this network of African and European scientists working on African agriculture adaptation to climate change.
COUNTRY COVERAGE
The OPFP 1st Call for Applications was open for candidates from Benin, Burkina Faso, Cote d'Ivoire, Ethiopia, Kenya, Malawi, Mali, Nigeria, Senegal, Tanzania, Togo, and Zambia.
The second and third Call for Applications included candidates from Morocco and Algeria.
IMPLEMENTERS AND FUNDERS
One Planet Fellowship Programme is jointly implemented by Agropolis Fondation and AWARD (African Women in Agricultural Research and Development).
It is co-funded by the BNP Paribas Foundation, the Bill and Melinda Gates Foundation, Canada's International Development Research Centre (IDRC) and the European Commission through the DeSIRA Initiative.
THREE SUCCESSIVE COHORTS: 2019, 2020 and 2021
The first cohort, composed of 45 high-potential scientists, selected from a pool of more than 1,500 candidates, was launched in September 2019. The call for applications for the next cohort of the One Planet Fellowship which closed on March 31, 2020 attracted 903 applications from 14 African countries (Algeria, Benin, Burkina Faso, Cote d'Ivoire, Ethiopia, Kenya, Malawi, Mali, Morocco, Nigeria, Senegal, Tanzania, Togo, and Zambia). Applications received from the six anglophone countries totaled 546, while those received from the eight francophone countries were 357.
The third cohort is currently being recruited (deadline for submission: 28th February).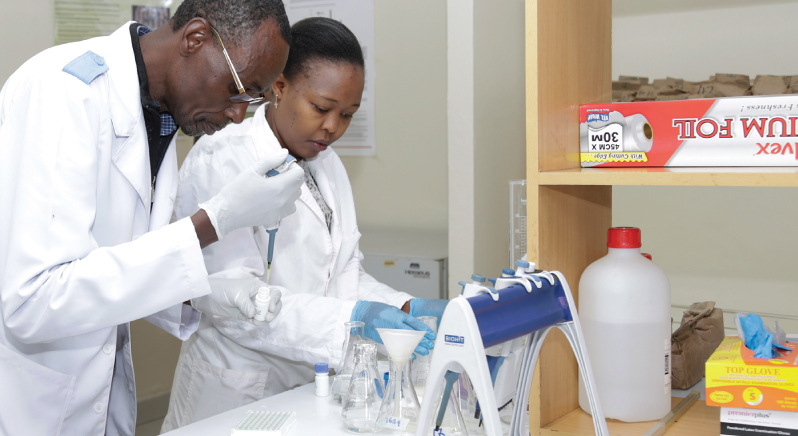 One Planet laureates are all presented here.